Proteus 25th Anniversary: On This Day in History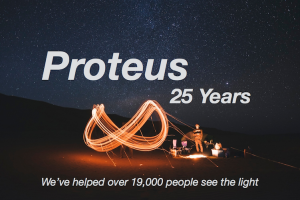 On 4th January 2016 Proteus Consultancy celebrated 25 years of helping its clients manage their careers. We wondered what other significant events have happened historically over the years on this same day?
The Events:
871 – Battle of Reading: Æthelred of Wessex fights and is defeated by a Danish invasion army.
1649 – English Civil War: The Rump Parliament votes to put Charles 1st on trial.
1884 – The Fabian Society is founded in London, England.
1912 – The Scout Association is incorporated throughout the British Empire by Royal Charter.
1959 – Luna 1 becomes the first spacecraft to reach the vicinity of the Moon.
1972 – Rose Heilbron becomes the first female judge to sit at the Old Bailey in London, England.
1991 – The firm Proteus Consultancy was established legally as a limited company.
2004 – Spirit, a NASA Mars rover, lands successfully on Mars.
2010 – Buri Khalifa, the world's tallest building, is officially opened.
2016 – Proteus Consultancy Limited celebrates 25 years of helping its clients manage their careers.
Finally a big thank you to all those who have read this post and for helping us to celebrate our 25th anniversary!